IndiGo in-flight
CREATIVE STRATEGY | EXPERIENCE DESIGN | ART DIRECTION | PUBLICATION DESIGN | PACKAGING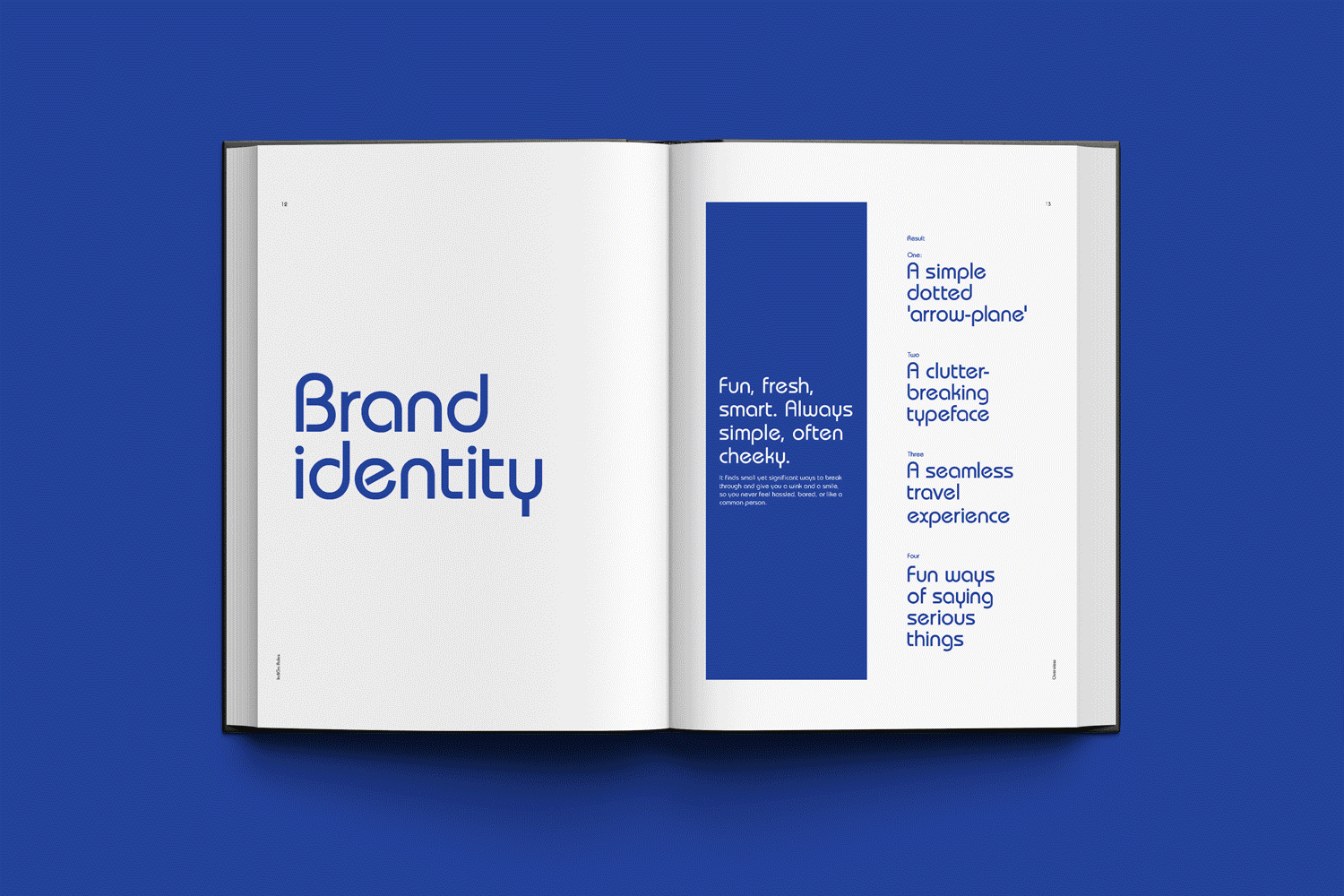 AGENCY: WIEDEN+KENNEDY
CLIENT: INDIGO (AIRLINES)
ECD: SHUCHI THAKUR, MOLONA WATI LONGCHAR, DEAN WEI
COPYWRITER: NAINAN CHOPRA, MALAVIKA SHARMA
WORK:
EXPERIENCE DESIGN, BRAND CAMPAIGN
RELEASE DATE: 2018 - 2020
CREATIVE DIRECTORS: GEORGE ABRAHAM, JOSSY RAPHAEL, SAMARJIT BHATTACHARYA
---
About IndiGo:
IndiGo is an Indian low-cost airline. It is India's largest airline by passengers carried and fleet size, with a 59.24% domestic market share as of August 2020.

My role:
I was in IndiGo's core creative team at Wieden+Kennedy. From brand strategy to national/digital campaigns, I've been a part of all of it at IndiGo.
---
In-flight Entertainment (IFE)

Launching long-haul international flights and they are a low-cost airline with no tradition IFE screens or wifi.
How can we integrate IFE in long haul flights without IFE screens?
We looked at traditions forms of enteretainment that didn't require wifi or a screen - board games, books and puzzels.
However, every added kg costs the airline - so our problem statement became:
How can we integrate IFE in long haul flights without adding more weight on the plane.


We tool what was already available on board - food and catalogue, and converted them into traditional enteratainments for the captive audience.



We created packaging that doubled as a post-meal board game. While it isn't impossible, this game of finger twister is challenging enough to keep the passenger engaged for some time.

The instructions were user-tested so that it was equally challenging for both right-handed and left-handed passengers.
Challenges in designing a board game:
- Single player
- Should be familiar
- Can't have additional game pieces like pawns, dice, and standees.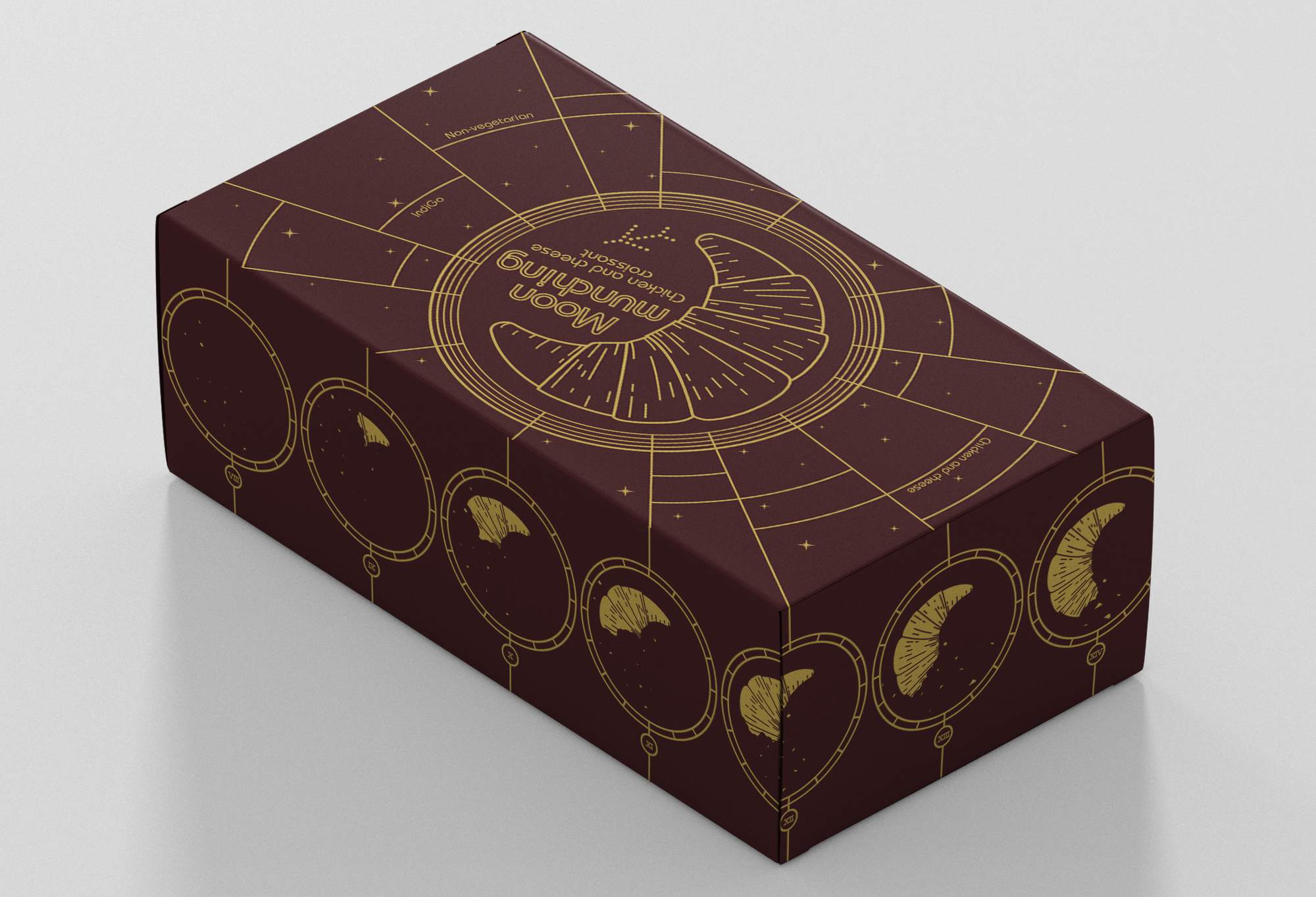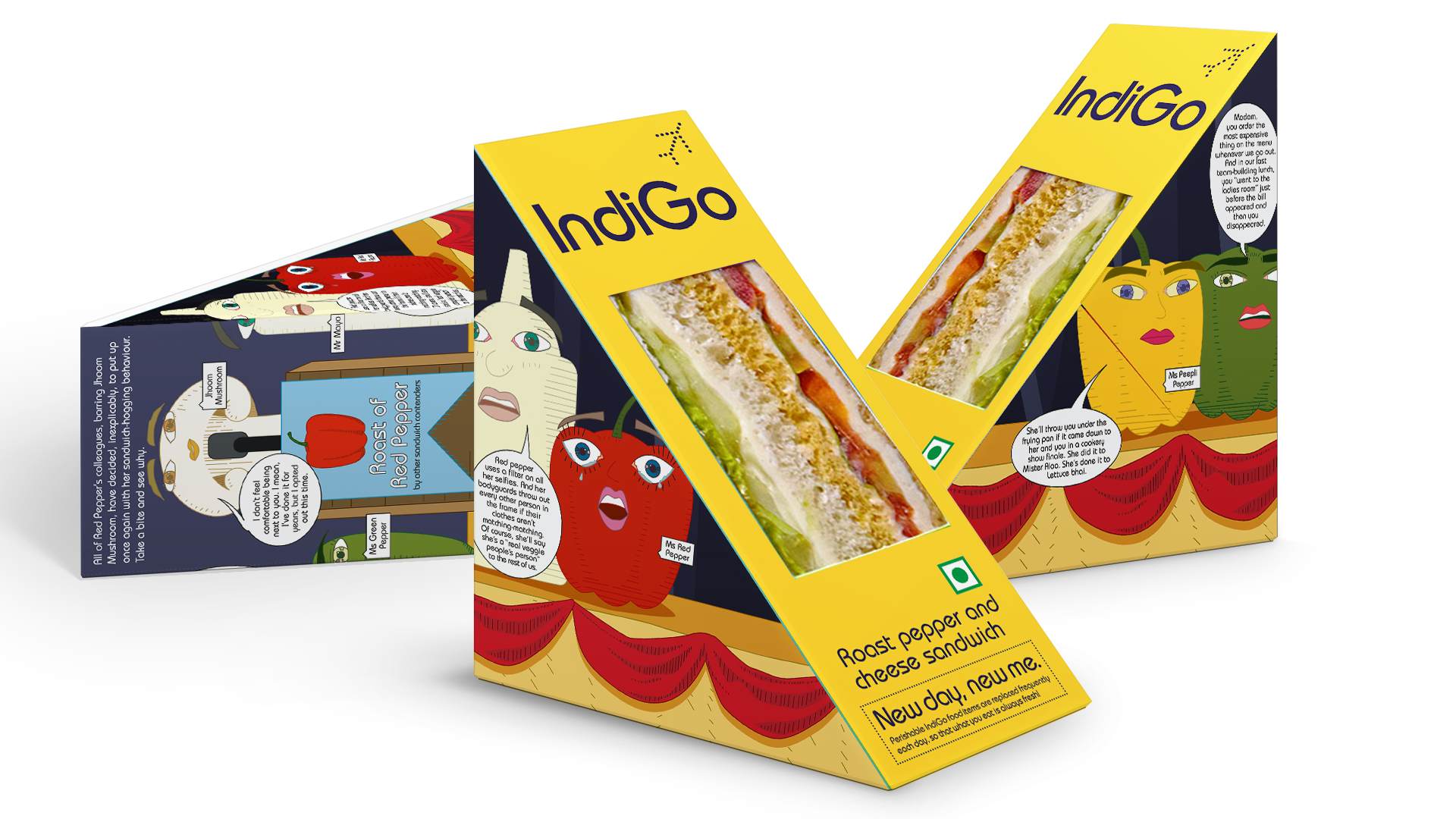 Every page in the in-flight catalogue, including brand ads, milestone announcements, service ads, and even third party product ads - were all designed to make sure they were in line with the month's theme, the brand's voice and above all - entertaining.

---
Pre-booked meals
(unreleased)

Problem:
IndiGo wanted more passengers to pre-book their meals for better operational planning and cost-cutting.

Some of the business changes in effect were, curating an exclusive pre-book menu, and offering meals at discounted rates.

Our challenge was -
How might we change the average Indian flyers' behaviour and having them build a long-term habit of pre-booking
Some of the previous drafts leveraged on 'the joy of receiving a parcel'. Using the endowment effect to make the passengers feel special, like something was delivered specifically for them.

After a usability test, we found - this only gets them excited momentarily. We needed something that that can have a longer-term effect on the passenger's behaviour.
Solution:
Positive reinforcement - Operant Conditioning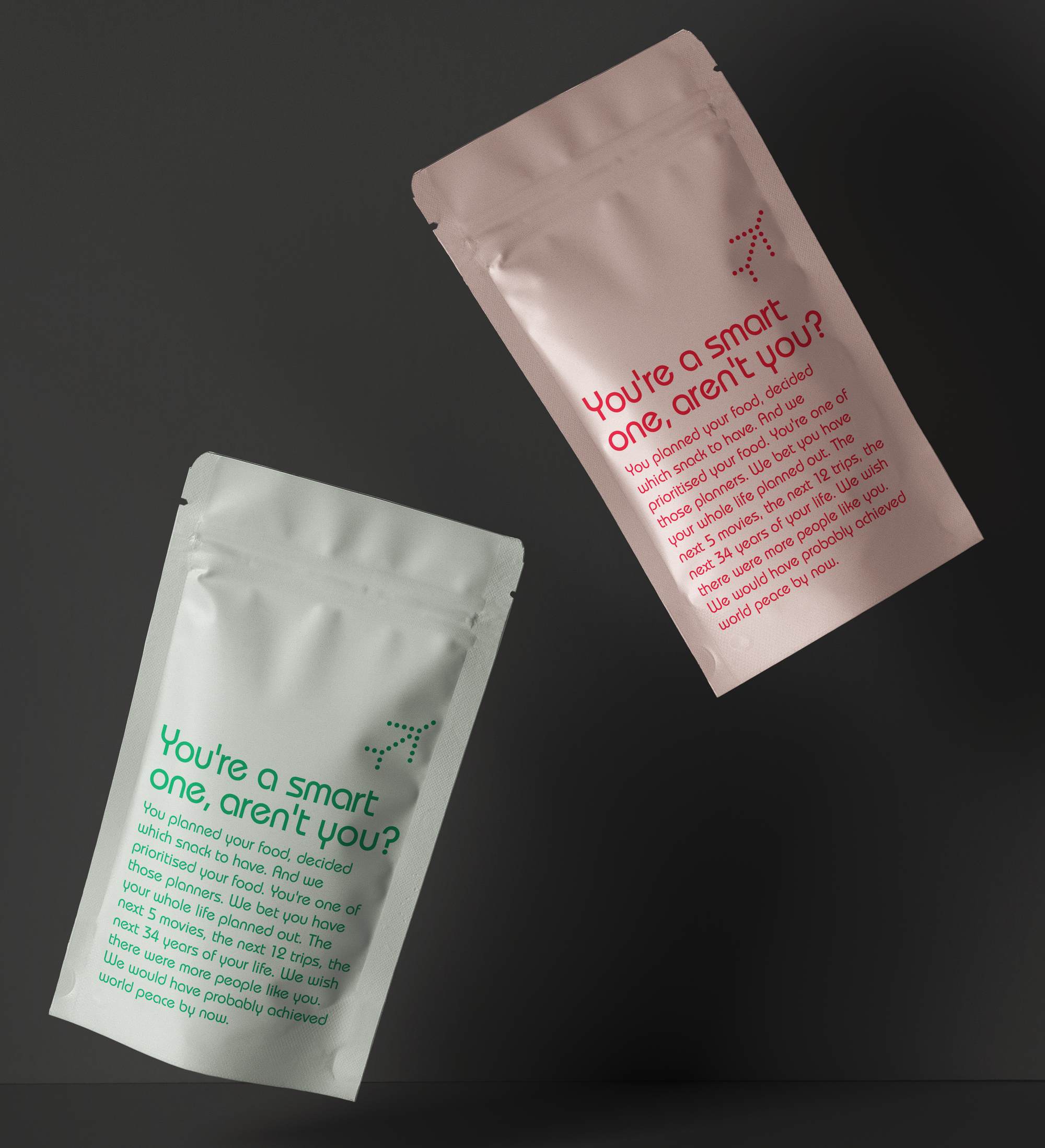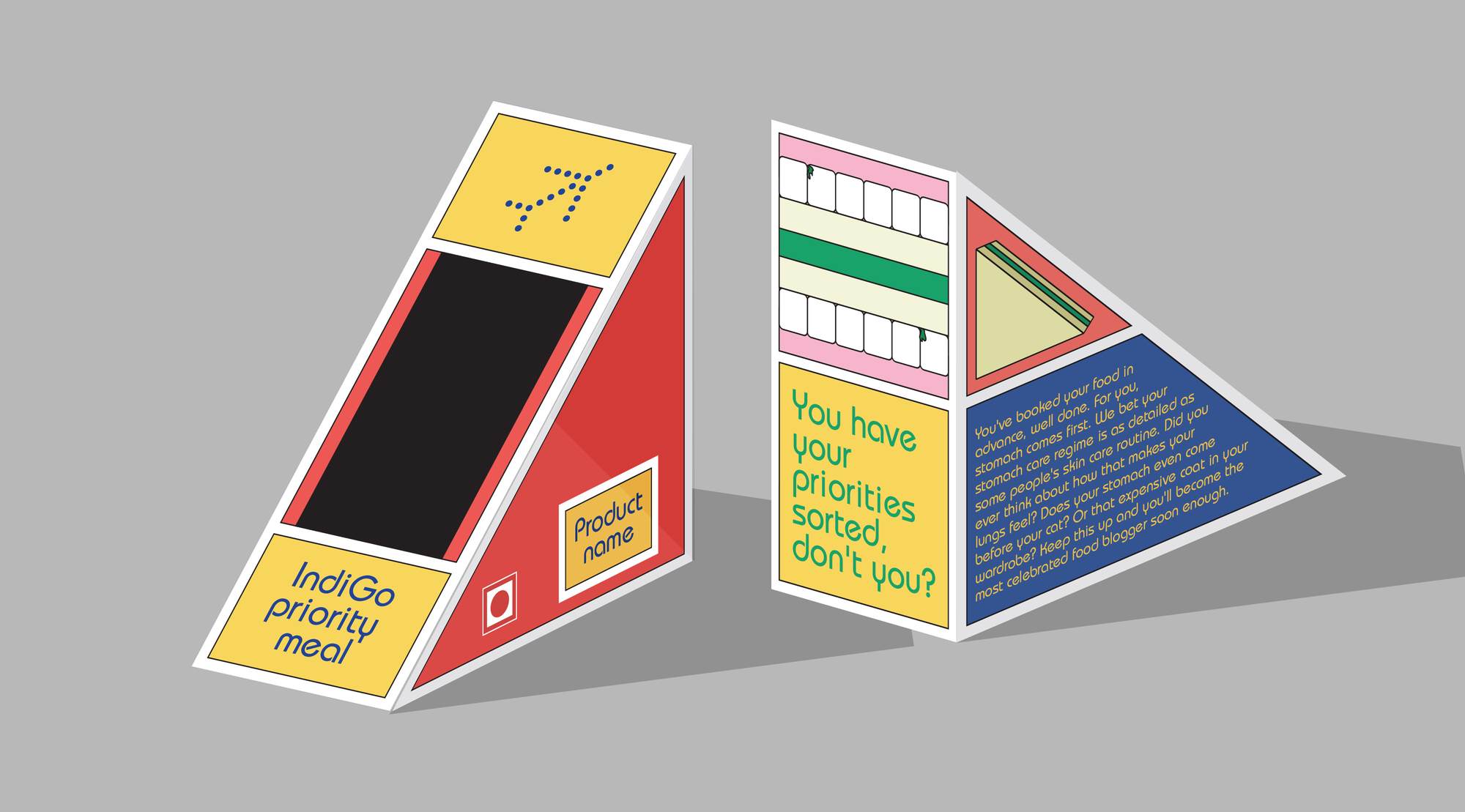 Reward our passengers for their effort. We introduced a new line of packaging for the pre-booked meals that flattered the passengers for their decision to plan.



Complimenting a captive audience with phrases like:
- you're a smart one, aren't you
- we wish there were more people like you
- You have your priorities sorted don't you
They would more likely remember to pre-book again.
---